So if you haven't seen yet, former Detroit Tigers baseball player Prince Fielder posed nude for ESPN magazine's body issue.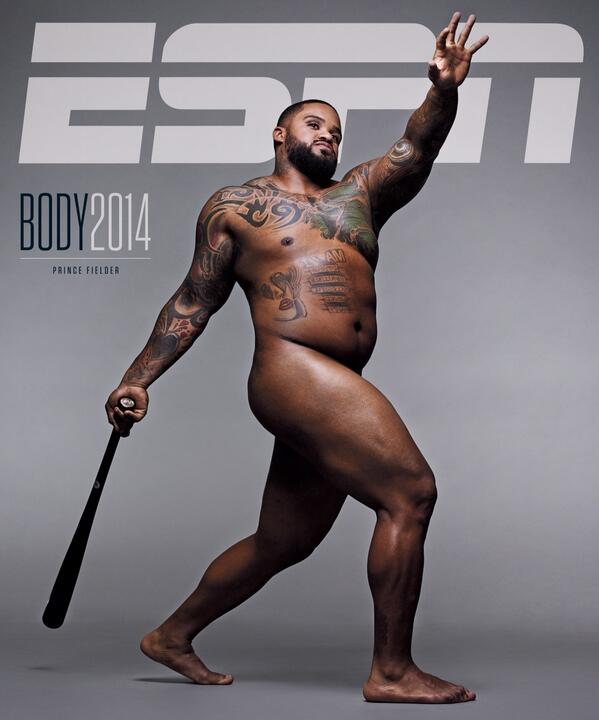 I feel like I should preface this to say that I don't follow baseball at all, so prior to seeing this I didn't know who Prince Fielder was even though he previously played for the baseball team in my area (The Detroit Tigers).
But I just thought I should share this because I love it. More than the image itself I love his comments:
You don't have to look like an Under Armour mannequin to be an athlete. A lot of people probably think I'm not athletic or don't even try to work out or whatever, but I do. Just because you're big doesn't mean you can't be an athlete. And just because you work out doesn't mean you're going to have a 12-pack. I work out to make sure I can do my job to the best of my ability. Other than that, I'm not going up there trying to be a fitness model. (source for quote)
Love it!
Just to recap:
Just because you're big doesn't mean you can't be an athlete.
Apparently this has lead a lot of people to freak out, because it's still so inconceivable to some people that fit people don't only look like fitness models.
Honestly the accusations that he doesn't look athletic boggle my mind. Even if one was going by appearance alone, he looks pretty fit to me. I mean, he's got serious muscle on his legs clearly. But just because he has a little bit of a beer belly instead of a 6 pack means he's not athletic? Seriously?
Of course, that is not how it works. Fitness ability is not based on how visible your abs are!
Again- not all fit people look like fitness models!